Invite-Only


PreSeason
Basketball Camp

Sat. Nov.11th, 2017
at Keene State College
Who is the camp designed for?
Invite-Only Basketball camp organizer and Wilton-Lyndeborough Cooperative (WLC) Varsity Boys Basketball Coach, Dave Wheeler says, "We are looking for good, high potential, players in Grades 7-11 … and we will make them better at this camp.  They will compete with and learn from some of the best players, trainers and coaches in New England."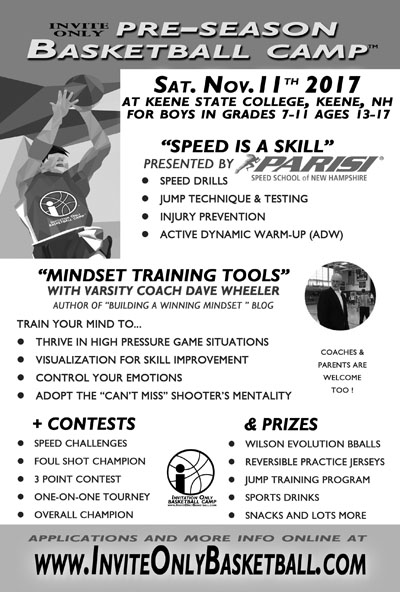 What is this Preseason Basketball Camp all about?
Like last year the camp is built around the 3 M's of high performance basketball – Muscle, Mechanics and Mind.
This year, we are bringing in top athletic trainers to teach campers how to be more athletic in the Muscle session.  The Mechanics section will include a bunch of different contests such as foul shooting, 3 point contest, 1-on-1 and much more.  If a player would like a one-on-one review of their shot mechanics and one-on-one moves this can be arranged either before or after the camp with Coach Wheeler.
The final session of the camp, led by Coach Wheeler, will address how to train your Mind to perform at your best in practice, games and in life. He will also award the prizes for all the contests! (Parents might want to get there for the award ceremony. More details about the schedule will be emailed to invited attendees once they are signed up.)
Overall, Invite Only PreSeason Basketball Camp is a one-day camp focused on the skills and techniques that will make you a better player on the basketball court.  The camp will cover the following…
The Mental Side of Shooting & Scoring
Active Dynamic Warmup (presented by Parisi Speed Experts)
The "3 M's of Scoring"
Shooting Contests with great prizes
Tips for ways to improve prior to team tryouts
What else will I 
take home

from this camp?
Speed Improvement Drills (Get faster)
Injury Prevention Tips (so you are healthy and ready to play)
The Mindset of a Scorer
Reversible Camp Practice Jersey (great for pickup or league games)
More Contests and More Prizes than last year's camp!
How much does it cost?
This full-day invitation-only *  camp costs just $97.
For all the information and experiences this is a great deal !
Right-Click HERE and "Save As" to download both pages of the camp flyer on one PDF page!
Who is Coach Wheeler?
For the past two years, Dave Wheeler coached the Marlborough Dukes in the Connecticut Valley League (CVL). Over that time, his teams won two regular season championships with undefeated 12-0 records.  The Dukes went on to win the league playoff championship in 2016 and were runner-ups in 2017. Coach Wheeler's overall record is 37-2.
Coach Wheeler brings concepts & ideas to his team's practices that are based on his experience as a player at a top Div.III basketball program as well as his understanding of performance psychology and mindset training.  A skilled shooter in his playing days, he has since learned (and applied) mental techniques that can give any player a scoring advantage on the basketball court.
Coach Wheeler also writes  for the blog, "Building a Winning Mindset". He has a number of articles focusing on tools to build mental toughness on the basketball court and in life.  His articles also include ways to "Train Your Brain" to control your emotions, handle stress in difficult situations and much more.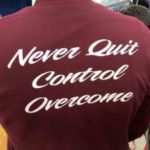 A winning mindset is critically important for any team.  Every season, Coach Wheeler presents 3 keys to being part of the team… 1) We Never Quit, 2) We Control Our Minds and 3) We Overcome Challenges.  These 3 rules or ideas help his players to work together as a team, explore what they were capable of achieving and much much more.  At the camp, Coach Wheeler will talk about how you can control your mind and overcome obstacles that might be holding you back from performing on the basketball court … and from scoring more points !