Score More!
Basketball Camp
Sat. Nov.5th, 2016
at Keene State College
Who is the camp designed for?
Score More Basketball camp organizer and Marlborough School Head Boys Basketball Coach, Dave Wheeler says, "We are looking for good, high potential, players in Grades 7-10 … and we will make them better at this camp.  They will learn from some of the best players, trainers and coaches in New England."
What is the Score More! Basketball Camp?
The camp is built around the 3 M's of high performance basketball – Muscle, Mechanics and Mind.  We are bringing in top athletic trainers to teach campers how to be more athletic in the Muscle session.  The Mechanics section will be led by 1000 point career scorers who will teach shot mechanics and one-on-one moves to improve camper's ability to score.  The final session, led by Coach Wheeler, will address how to train your Mind to perform at your best in practice, games and in life.
Score More! Basketball Camp is a one-day camp focused on the skills and techniques that will make you a better scorer on the basketball court.  The camp will cover the following…
Discover the Mental Side of Shooting & Scoring
Meet & Learn from 1000+ point scorers
How to apply The "3 M's of Scoring"
Have Your Shooting Form reviewed by experts
The best way to practice in the off season
Shooting contests and prizes
Learn new moves you can use immediately
What will I take home from this camp?
Shooting drills to help you improve for next season
New Moves suited to your strengths and role on your team
The Mindset of a Scorer
Reversible Camp Practice Jersey (great for pickup or league games)
How much does it cost?
This full-day invitation-only camp costs just $97.
Apply for your invitation TODAY !
Who is Coach Wheeler and who is on his team for this camp?
Last season, Dave Wheeler coached the Marlborough Dukes to the Connecticut Valley League (CVL) regular season championship with an undefeated 12-0 record.  The Dukes went on to win the league playoff championship and tallied a total of 21 wins for the year.
Coach Wheeler brings concepts & ideas to his team's practices that are based on his experience as a player at a top Div.III basketball program as well as his understanding of performance psychology and mindset training.  A skilled shooter in his playing days, he has since learned (and applied) mental techniques that can give any player a scoring advantage on the basketball court.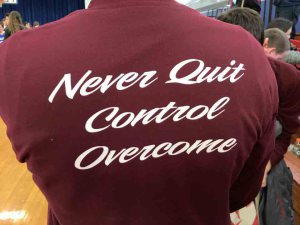 For example, when the season started for the Marlborough Dukes, Coach Wheeler presented the 3 keys to "Being A Duke"… 1) We Never Quit, 2) We Control Our Minds and 3) We Overcome Challenges.  These 3 rules or ideas helped the Dukes to work together as a team, learn what they were capable of achieving and much much more.  Coach Wheeler will talk more about how you can control your mind and overcome obstacles that might be holding you back from scoring more points !
Aside from Coach Wheeler, campers will learn from a number of 1000 career point scorers.  This milestone sets these players apart from "average" or even "just good" players and their insights will help you find ways to SCORE MORE!
Press Releases about the Score More Basketball Camp:
Camp for Serious Basketball Players comes to Keene, NH
Keene camp built on 3 M's of High Performance Basketball for Grades 7-10
There is a new type of basketball camp coming to Keene State College on Sat. Nov. 5th and it is not for everyone.  In fact, players apply for an invitation online and the number of slots for attendees is limited to only 100 boys.  Read More…